Doctors & Staff
Meet the experienced and friendly doctors and staff who make Eye Care Associates of Owosso the leading provider of vision care products and services in Owosso.
---
Matthew J. Maki, OD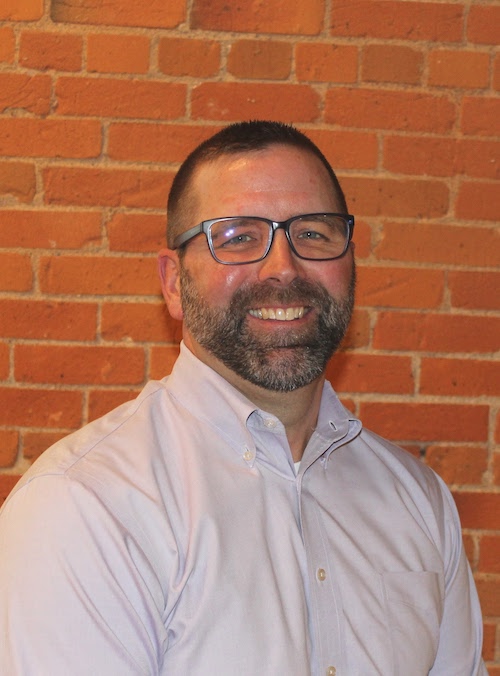 Dr. Maki is a 1990 graduate of Michigan College of Optometry (MCO) at Ferris State University. Following graduation from MCO, Dr. Maki completed a hospital-based residency program at the American Lake and Seattle Veterans Administration Medical Centers in Tacoma and Seattle, Washington. He then completed a clinical fellowship at the Pacific Cataract and Laser Institute in Chehalis, Washington, where he later served as clinic director in the Kennewick, Washington office.
Dr. Maki has also served as Chief of Optometric Services, Fort Wayne Veterans Administration Medical Center in Fort Wayne, Indiana and as an Assistant Clinical Professor at the Michigan College of Optometry.  He received the Daniel Peters Memorial Award as the Outstanding Senior Optometry Student at the Michigan College of Optometry, additional awards while a student, and was elected to the Omicron Delta National Leadership Fraternity. He is a member of both the American and Michigan Optometric Associations and a Fellow of the American Academy of Optometry.  He served as President of the Michigan Optometric Association (MOA) in 2011 and was named MOA Michigan Optometrist of the Year in 2014.  He continues as a volunteer in the MOA Committee structure.
Dr. Maki is a published author and lecturer on various clinical subject matters. His special interests are ocular disease management and refractive surgery.  In addition to Optometry, he enjoys running, bicycling, golfing, and reading.
---
Whitney J. Genrich, OD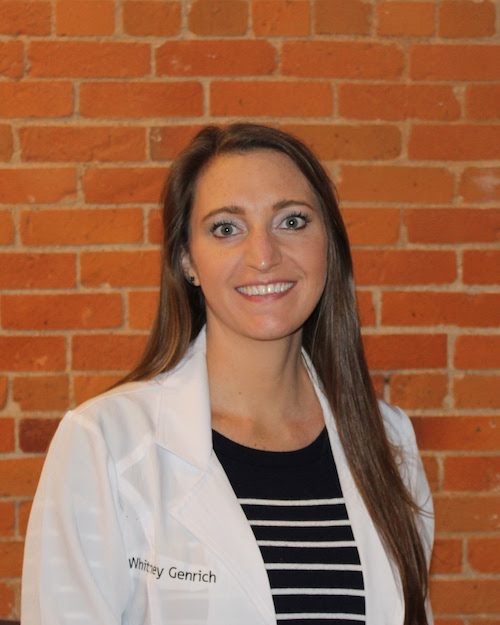 Dr. Genrich obtained her Bachelor of Science in Biology at Central Michigan University.  She then attended University of the Incarnate Word Rosenberg School of Optometry in San Antonio, Texas where she graduated with a Clinical Excellence Award.  While in San Antonio, Dr. Genrich enjoyed providing comprehensive eye care to the underserved population and volunteering her time for humanitarian missions and care.  She has received training in different aspects of optometric practice including a Veterans Administration Hospital and a multi-disciplinary ophthalmology practice which concentrated on cataract and refractive surgery.  These have helped increase her knowledge and experience in ocular disease and peri-operative surgical co-management.
Dr. Genrich takes pride in her work and is dedicated to excellence in treatment and comfort.  She is passionate about educating her patients about their conditions so they can fully participate in disease management, and as a result, experience a better quality of life.  Dr. Genrich is devoted to always putting the patients care first while simultaneously providing the highest professional eye care possible.  Joining the practice in June 2014, Dr. Genrich wants her patients' experiences at Eye Care Associates of Owosso to be unique and memorable.
During her free time, Dr. Genrich enjoys all outdoor activities that Michigan has to offer and most importantly spending time with her family and friends.
Dr. Genrich is thrilled to be a new member of the Eye Care Associates of Owosso family and looks forward to serving the community.
---
---
Roger R. Seelye, OD – Retired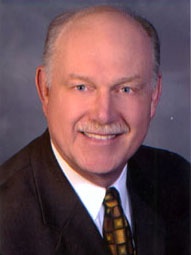 After attaining a Bachelor of Science degree from Adrian College, Dr. Roger Seelye attended the School of Optometry at Indiana University where he graduated with honors. After serving two years as an officer in the Medical Service Corp of the U.S. Army, Dr. Seelye returned to his native Michigan where he has practiced optometry for over 30 years. During his career, Dr. Seelye has dedicated his leisure time to volunteerism serving both the needs of his profession and community. Committing his time to the special needs population of his community, he has provided vision care services to the students at the Michigan School for the Blind and Beekman Center of the Lansing Public Schools, and, as a certified low vision specialist, to the clients of Michigan Commission for the Blind. He has also served the citizens of Michigan as a gubernatorial appointee to the Michigan Health Council, the Michigan Health Occupations Council and the Michigan Board of Optometry where he was elected Chairperson.
Dr. Seelye has assumed many leadership roles in his professional associations which have included President of the Michigan Optometric Association, Member of the American Optometric Association State Governmental Relations Center with specific involvement with state health care legislation and licensing and regulation issues, and as a Board Member of the National Association of Regulatory Boards of Optometry.
Dr. Seelye has been frequently recognized by his colleagues and peers. He is the recipient of every award given by Michigan Optometric Association. They include the Lifetime Achievement Award, Optometrist of the Year Award, Key Person Award, Leadership Award, Extra Mile Award, and the Legislative Achievement Award. He has also been a candidate for the American Optometric Association Optometrist of the Year Award.
Dr. Seelye continuously strives for the highest level of professional and clinical excellence in his private optometric practice with active participation in national and state level continuing education and state-of-the-art clinical skill training courses. Dr. Seelye and his wife Phyllis, are the proud parents of two wonderful and successful children and the grandparents of two delightful grandchildren.
---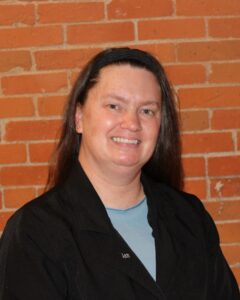 Jen Tarrant, Optician
Jen is an Optician for Eye Care Associates. She is here to help you with your eyewear needs; whether it be selecting, adjusting or repairing them. She can also assist with questions concerning your eyewear. Jen has been in optical since 1997 and was certified through the American Board of Opticianry in 1998.
---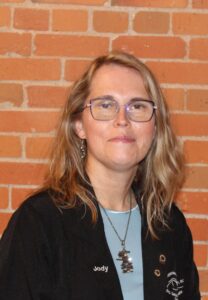 Jody Sivyer, ABOC
Jody started her career in optical in 1995. She has been certified through the American Board of Opticianry since 1998. She has been an Optician with Eye Care Associates since 2005. Jody enjoys assisting patients in frame selections, fitting, adjusting and repairing glasses, and troubleshooting when there is a problem.
---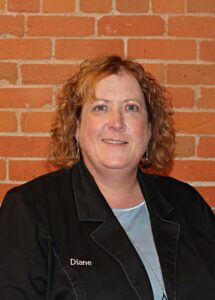 Diane Wilson, COT
Diane joined Eye Care Associates in July of 2018 as the new office manager. She comes to us with over 30 years of experience in the ophthalmic and optometric field. Half of that time was spent in management. Diane is a certified ophthalmic technician. She is excited to be part of this team and to work with such wonderful doctors.
---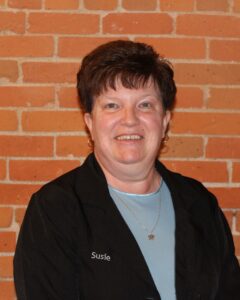 Susie Sutton, Insurance Specialist
---